The Secret Ingredient of Rocket Food's Branding: Bespoke Notebooks
"Your brand is the single most important investment you can make in your business." - Steve Forbes, Editor-in-Chief of Forbes
So true!! It is never enough when it comes to branding and what better way to exemplify your brand than through bespoke notebooks, meticulously crafted to align perfectly with your company's core values.
Recently, Rocket Foods, the renowned luxury catering services in the heart of London, sought to enhance their branding, with our collection of exquisite notebooks. Each bespoke notebook perfectly reflected their brand with stunning colours and impeccable design.
These handbound personalised notebooks, crafted at our bindery, have not only adorned the tables of meetings at Rocket Food's headquarters but have also grasped their customers' attention at various promotional events, ensuring Rocket Food's brand stands out. All features of these bespoke notebooks capture their commitment to excellence, attention to detail and unparalleled service.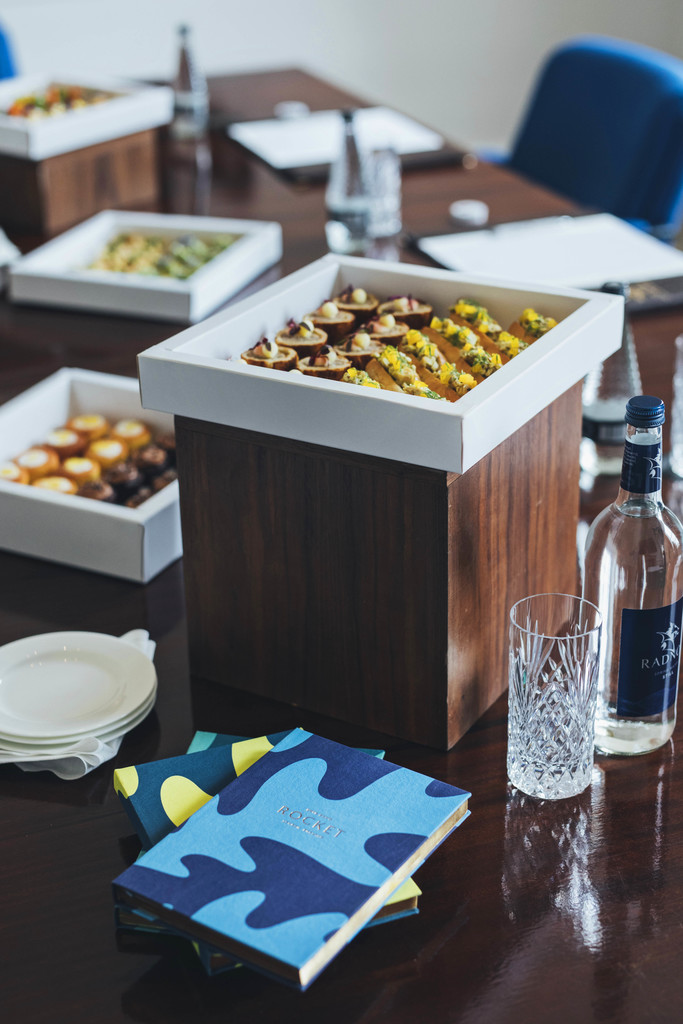 Discover the Craftsmanship of Rocket Food's Bespoke Notebooks
To create personalised notebooks that meet Rocket Food's specification and align with their brand, we placed great emphasis on precision and adherence to their branding guidelines. We carefully matched the colours of the covers on heavy cartridge paper and the endpapers followed by supplying samples for Rocket to review and provide feedback.
Ultimately, a complete printed sample book was provided, setting the stage for the final masterpiece. The text pages, printed on our British-made smooth off-white cartridge paper, underwent careful folding, gathering, and thread sewing to form the book blocks. The handmade covers were embossed with Rocket's logo in gold. Each book was then lined with endpapers, trimmed and fitted with a bookmark ribbon. Extreme attention was paid to every tiny detail because we believe in delivering uncompromising quality.
But don't just take our word for it. Here's what Jessica from Rocket Food had to say about the branded bespoke notebooks created by us,
"We at Rocket are incredibly pleased with the branded books created for us by Stamford Notebooks. Their vibrant colours and stunning design make them stand out at events and client meetings, generating positive feedback and leaving a lasting impression. We are proud to carry them around, and they have become a source of pride for our team. These books truly embody our brand and revel in the exceptional!"
- Jessica, Rocket Food
Embrace the power of branding and let our bespoke notebooks carry your brand's legacy. Elevate your presence, inspire your team, and leave an indelible mark on every encounter. Your brand deserves nothing less than a masterpiece, and our notebooks are here to make that vision a tangible reality.
Invest in the extraordinary.
Choose bespoke.
Choose distinction.
Choose the notebooks that embody the soul of your brand.
Contact us for more information
Rocket was established in 2000 by brother and sister Michael Symonds and Caroline Hall. Determined to be the top luxury caterer in London, their reputation was built on exquisite food, creativity and outstanding client service. Find out more about them here.
Aug 01, 2023